│Toronto │
│ Prince Edward County │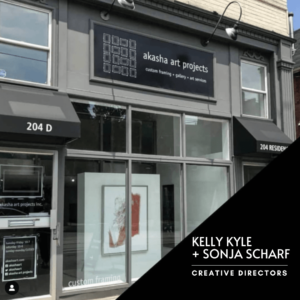 204d Carlton St. Toronto, ON M5A 2L1
Located in the heart of Toronto, the flagship location of Akasha Art Projects serves as a testament to their commitment to fostering creativity and artistic expression. This dynamic space offers a curated selection of contemporary artwork, exhibitions, and engaging cultural events that captivate both local visitors and art connoisseurs alike.
At Akasha Art Projects, the emphasis is on promoting diverse perspectives and cultivating meaningful connections. Their dedicated team curates thought-provoking exhibitions and provides a platform for emerging and established artists to showcase their talent. This commitment to artistic excellence has helped position Akasha Art Projects as a leading destination for immersive art experiences in Toronto.
As you explore our website and delve deeper into our passion for art, you'll discover the profound impact we strive to make in the art community. From engaging exhibitions to enriching services, Akasha Art Projects is dedicated to inspiring, connecting, and nurturing creativi.
343 County Rd 22 Prince Edward, ON K0K 2T0
We are thrilled to announce the exciting partnership between Akasha Art Projects and Maison Depoivre Art Gallery, born out of our shared passion for Art & Design. This innovative collaboration brings together two forces to create something truly extraordinary.
By aligning our values and vision, we are dedicated to consistently delivering exceptional customer service and upholding the highest quality standards. As a testament to this commitment, Akasha Art Projects has established its first satellite location within the breathtaking Maison Depoivre Art Gallery, nestled within the vibrant cultural hub of Base 31.
In 2009, Kelly Kyle and Sonja Scharf, the creative minds behind Akasha Art Projects, joined forces and embarked on a journey that would shape their company. Their first location situated in the historic Cabbagetown district of Toronto, specializes in custom picture framing and fine art printing along with a comprehensive range of art services.
At the core of their business are the values of passion, commitment, and integrity, which have propelled them to establish a unique brand in the realm of fine art and design.
Drawing inspiration from their passion for art and design, Kelly and Sonja consistently strive to create innovative solutions that transcend time and seamlessly integrate into any environment. Their studio is driven by a relentless pursuit of quality craftsmanship, with a strong emphasis on conservation and preservation framing techniques. It is this unwavering dedication that has earned Akasha Art Projects a stellar reputation, allowing them to collaborate with leading art galleries, interior designers as well as renowned and emerging artists from Toronto and around the world.
To book a framing or printing consultation please contact Kelly or Sonja at info@akashaart.com